Is staying on top of software updates, or the increasing need to work remotely, too expensive or too hard to manage?
Moving to the cloud can add value to your business by lowering costs and increasing competitive edge. Your hardware and software in the cloud is proactively maintained and actively managed on your behalf. Capital expenditure becomes largely a thing of the past, freeing funds to help drive profit. And by its very nature, the cloud allows you to work from anywhere at any time.
Cloud services are changing the way we do business. Whether you go all in or opt for a hybrid solution, we're here to help you determine your best way forward.
Chow:Hill – Culture and customer obsession the common factors Chow:Hill is a specialist architecture team who design with purpose, shape possibilities and turn vision into reality, with more than 70 staff across offices in Auckland, Hamilton and Christchurch. In 2017 the partners decided to rationalise their technology infrastructure and end user environments, both to reflect…
Squirrel streamlines device management and improves the user experience with Jamf With headquarters in Auckland, New Zealand, Squirrel is a quirky brand and trusted mortgage company who's written over $8 billion in home loans and $100 million in peer-to-peer loans – helping out a lot of Kiwis in the process. They've been in business for…
Technology changes so fast these days that talk of "moving your business to the cloud" can be daunting for some. However, there are numerous advantages and benefits of moving some or all of your computing to the cloud:
Predictable cashflow: pay a regularly monthly fee instead of the cycle of expensive hardware and software upgrades.
Security: your cloud service provider utilises automated software updates and datacentre-grade network hardware as well as physical security systems.
Reliability: your cloud provider uses multiple connections to the Internet and uninterruptable power supplies so that failovers occur with minimal disruption. Cloud service providers also employ the best specialist datacentre engineers to keep everything running smoothly.
Data protection: backups are automated and reliable.
Mobility: cloud computing is collaborative by default. Remote working is built-in, and this can lead to an additional benefit of improvement in work/life balance.
Scalability: more employees, fewer employees, your cloud service expands or contracts with your needs.
Environmental benefits: computers generate a lot of heat, so it's greener and more efficient to create many virtual servers in a datacentre than locating actual, physical servers in offices around the country.
For some businesses, cloud computing can help increase efficiency and agility, lower costs and gain a competitive edge. Talk to us about whether moving to the cloud is right for you.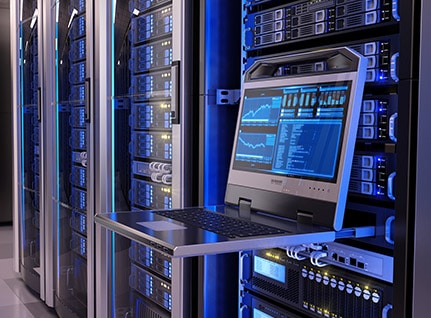 © Copyright 2022. All rights reserved