Premium service provides loyalty at its best
Retail, whether it's fashion, food, or anything in between, is an unforgiving business and when you are providing a loyalty program to retailers, you can't afford to ever have a bad hair day.
As such, reliable systems and outstanding support 24/7 are the bare minimum required to underpin such a venture, so when Goody Card went looking for a technology partner, they needed a company willing to provide that level of commitment. They stopped looking after they met with Imagetext – they'd found the level of commitment and technical expertise they needed for Goody Card.
The idea for Goody Card came about a couple of years ago, when frustrated with his wallet bulging with various loyalty cards, Gorran Marusich thought to himself "there must be an app for that." So Gorran went looking but found nothing that met his needs. In typical entrepreneur fashion, he promptly formed a company in partnership with Shane Bradley of GrabOne fame and they set out to build a system and supporting apps to change the face of loyalty cards in New Zealand.
Goody Card is essentially a hassle-free customised loyalty program for small businesses that allows customers to conveniently replace a wallet full of traditional loyalty cards with a single universal card. Or customers can ditch the plastic altogether and use the Goody App on either their iPhone or Android smartphone. When shopping, customers simply use the app or scan their card on an iPad in-store to earn points or redeem special offers.
Goody Card is used by a wide range of companies, from Movenpick to McCafe, Best Ugly Bagel to Zarbo, Caltex to Expresso Carwash and includes hundreds of local retailers.
The importance of the local touch can't be underestimated says Gorran.
"Most retail staff, even at companies with have a national presence, usually get to know their regular customers. That interaction changes how customers react to the Goody Card and because the offers are local to them and are easy to access, users tend to want to know what's available."
"As a result over 80 percent of Goody Card users are happy to share their personal information with their local retailers. It's great for the businesses because it lets them build their customer base and easily communicate with them, and it's great for the customers because they only get the offers they want to know about," says Gorran.
A vital component of the loyalty system is the in-store iPads that are provided to Goody's retail partners. These are delivered set up and ready to go, so from the retailers' perspective, it is literally a plug-and-play solution. All an individual retailer has to do is put the iPad by their in-store register and then watch their customers collect their Goody points.
Word of mouth recommendations are the best
Gorran says when the company launched, it initially looked to bulk purchase iPads directly from America but this turned out to be impractical for a number of reasons.
"To be really cost-effective we needed to import iPads in minimum lots of at least 100. That's a huge outlay, especially for a relatively small start-up, and right now we don't need to deploy 100 iPads at a time. That approach would also have meant that we would have had a large number of iPads sitting in the office, which is potentially an insurer's nightmare."
"In addition, the US versions come with power plugs that aren't compatible with New Zealand, so by the time we replaced them, we wouldn't be saving a lot of money at all. On top of that, the local support for the US-supplied hardware would be zero, and time zone differences meant there would automatically be communication delays. That whole approach is a false economy and doesn't match the level of service we want to provide to our customers," says Gorran.
"We realised we needed to find a New Zealand supplier that knew their stuff technically, were 100 percent reliable, and understood what timely really meant in a retail context," says Gorran.
"We got in touch with Imagetext as they came recommended by another tech company we also work with. Right from the first meeting we clicked. They understood our challenges and had no trouble coming up with a cost-effective solution."
The Goody–Imagetext partnership began in January 2015 and Gorran says Imagetext has continued to work hard to make sure that Goody's expectations are not only met, but exceeded.
"Imagetext understands that the iPads are key to the smooth running of Goody's business, and we realise that having a local premium Apple reseller as a partner is the best way forward."
"The iPads are an essential tool for our Goody customers. While issues with the iPads are very rare, when you rely on any technology, you know that things can go wrong occasionally. If an iPad stops working, for whatever reason, we need to get it repaired quickly or get our customer a replacement."
Gorran says staff at Imagetext are quick to respond to any queries, easy to deal with, and provide a consistently high standard of service.
"I remember one occasion when we urgently needed a replacement iPad for a client. From the time we made the request to when the iPad arrived at our office was only a couple of hours. We shipped it off to the client and they received it the next day – it made us look good!
"Imagetext has delivered on everything we've asked and have gone out of their way to help us. We can see why they've achieved Premium Apple reseller status – they really know what they're doing."
"We have big growth plans over the next few years and we know we can rely on Imagetext to keep providing the brilliant support we need to help make that happen," says Gorran.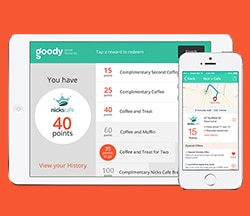 Overview
Innovative start-up Goody Card needed a smart technology partner for its locally developed retail loyalty system.
Challenge
Goody Card's technology partner had to be able to hold the required hardware stock levels and be able to provide near-instant delivery. At the same time, technical service and support had to be available 24/7.
Solution
Goody Card appointed Imagetext as its front-of-house hardware provider, with Imagetext delivering iPads on-demand while providing full technical support and service.
Why Imagetext?
Imagetext has been a leading supplier of Apple and Windows systems for 30 years and is one of only four Premium Apple Service providers in New Zealand. Imagetext is also one of the very few New Zealand technology suppliers with equal expertise in both Apple and Windows systems, and an extensive track record of successfully integrating them.
© Copyright 2021. All rights reserved