Chow:Hill – Culture and customer obsession the common factors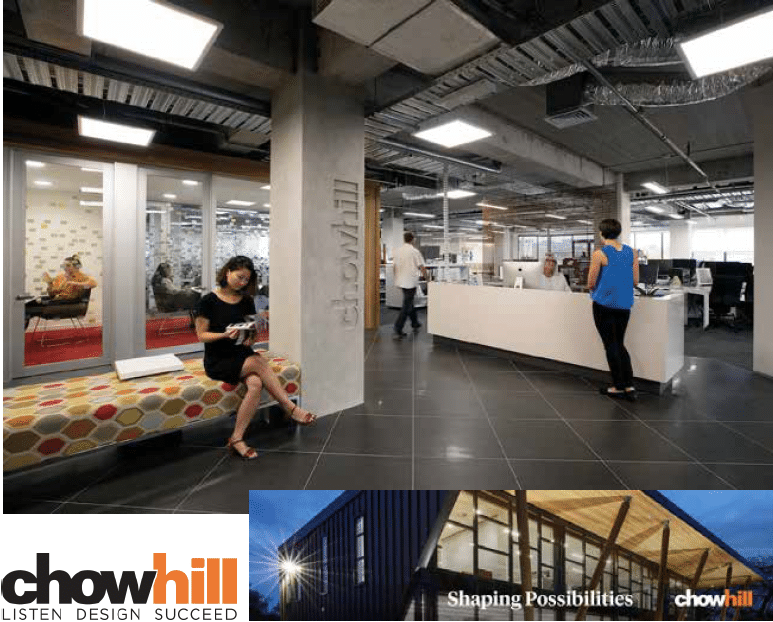 Chow:Hill is a specialist architecture team who design with purpose, shape possibilities and turn vision into reality, with more than 70 staff across offices in Auckland, Hamilton and Christchurch. In 2017 the partners decided to rationalise their technology infrastructure and end user environments, both to reflect changed work practices and ensure they were well prepared for future growth.
The challenge
In the early years of the practice, according to Kalpana Reddy, Chow:Hill CEO, a single person had supported a mixed workstation environment and network, but growth and technology changes meant the company needed a more substantial technology partner.
"Chow:Hill needed a partner that could offer both strategic technology advice and at the same time deliver practical support on a day-to-day basis. Like many design-oriented companies, we had a mix of Windows and Apple machines. However, changes in our preferred architectural software, plus a keen eye for the future, had persuaded the Chow:Hill partners of the need to upgrade, rationalise and position ourselves for the future," said Reddy.
In late 2017 Chow:Hill appointed BDO to run an RFP seeking a technology partner. The RFP drew a wide range of responses from interested technology providers, with, according to Reddy, an equally wide range of skills and approaches – some more appealing than others.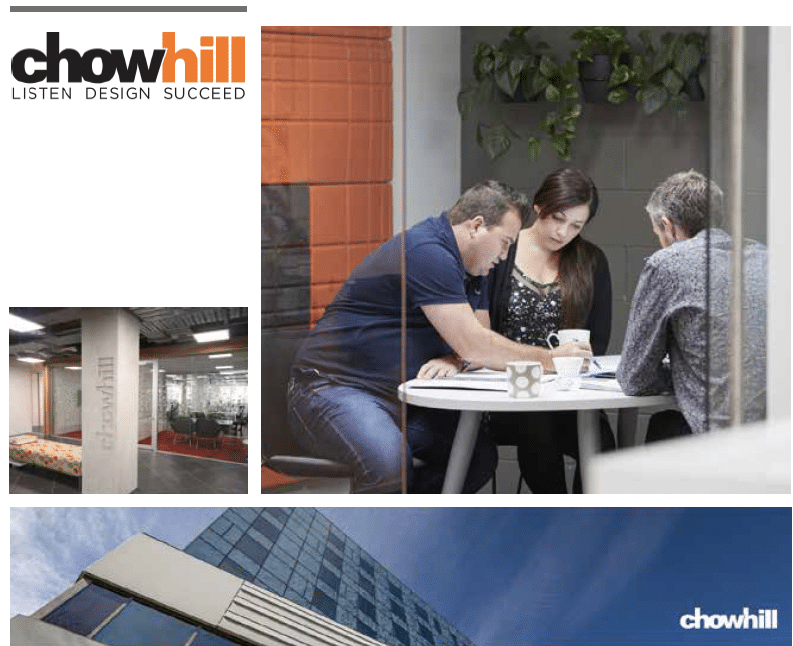 The solution
"BDO ran an extremely robust RFP process – it was a level playing field for every company that responded. For us, appointing the right information technology provider was a critical part of our future plans for the practice, so we had to make sure we got the right partner."
"Imagetext came up trumps in how it responded to the RFP. They not only understood our model, where we were at (when the RFP was issued), and where we needed to get to, but they clearly understood how to work with us on that journey," said Reddy.
Prior to the RFP, Imagetext had already been an approved supplier to Chow:Hill for a dozen or so years, supplying hardware and specialist support on an ad hoc basis. Reddy says that prior relationship didn't get them any special treatment in responding to the RFP.
Darius Mistry, Imagetext managing director and John Preisig, Imagetext technical director, led the Imagetext RFP response team. According to Mistry, company culture and philosophy were as important as tech know-how.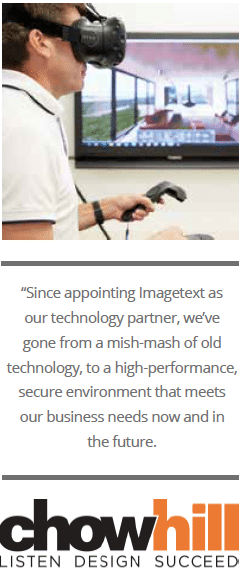 "When the RFP was issued we had been supplying Chow:Hill with hardware on a casual basis for a few years, so we had a good idea of how they worked and what their technology environment was like. For us, it was important that we not only demonstrated our strategic and technology credentials, but that we were also the best cultural fit."
Mistry says this approach has stood Imagetext in good stead over the many years it has been in business.
"We've been in the technology business for 30 years now. It's corny but true that the only constant from an IT perspective has been change. Throughout that time though, our single business constant has been our focus on our customers, understanding their businesses and their goals."
"It's fashionable at the moment to stress genuineness, to emphasise a focus on creating lasting in-depth relationships. To be transparent. Honest and open. All desirable qualities that are easy to say, but much harder to consistently deliver, month-in, month-out, year-in, year-out," said Mistry.
According to Mistry it's easy to go the extra distance at the start of a new relationship – it's the long term that shows whether or not a business relationship is really working.
"In the beginning everything is fresh and new and the supplier is keen to impress. The client is equally keen to be impressed; after all, they've just signed an agreement appointing that supplier – they'd like their client experience to confirm their professional judgement."
"But how long does that newness last? What it's really like three or four years later, when the glossy new shine is well and truly worn away? When the risk of taking each other for granted is high – that's when the depth and quality of a relationship is truly revealed," says Mistry.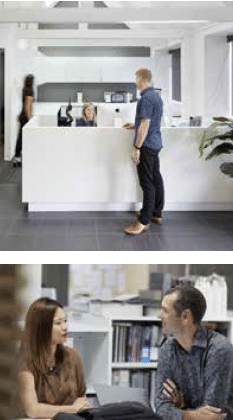 The benefits
John Preisig, Imagetext technical director, says Imagetext's response to the RFP proposed a full-service approach encompassing strategic technology advice, hardware, software, networking, implementation, security and ongoing priority support.
"All of the original Chow:Hill RFP requirements have long since been implemented. They now have a hybrid Windows environment running on a high-performance network, which includes secure Wi-Fi and a site to site virtual private network between the three offices, a full VOIP (Voice over IP) communications system, plus the team are also carrying out a proof of concept for Sharepoint adoption"
"Given the events of last year with COVID-19, more recently we've been working on remote work environment. That's relatively easy if you're just moving Word and Excel files around; it's altogether more complex when you have high-performance workstations and collaboration tools for architectural files," says Preisig.
Reddy says that as the original RFP requirements have been implemented, the nature of the relationship with Imagetext has also matured and changed.
"In the early stages of the RFP implementation we worked closely with Imagetext around our future tech requirements. I would be talking to John, or Darius, or Phil, (my other primary contact) all the time. Now, although I might not be talking to them quite as frequently, I still have a great working relationship with them."
"At a technical level, Imagetext is a professional unit with all the right qualified staff – they are all highly-skilled individuals in their own right. And at a management relationship level they are equally responsive – always fast and helpful. We rely on their expertise for our technology guidance, as well as our day-to-day support."
"I know that if I contact Imagetext and they can't respond instantly, they'll proactively get back to me as quickly as they can – every time. It's reassuring to know that if we TXT on an urgent matter we will always get a response."
"Even if I'm working on the weekend and I say, send John an email, it's not because I'm expecting an immediate reply, it's just that I'm working, so I send it while I think of it. Generally I'll hear back from John anyway – even if it is the weekend. That's how Imagetext is – they never put anything off to Monday, just because it's the weekend. That pretty much sums up their attitude."
"Since appointing Imagetext as our technology partner, we've gone from a mish-mash of old technology, to a high-performance, secure environment that meets our business needs now and in the future. I think it's fair to say that we are happy that we made the right decision back in 2017," said Reddy.

© Copyright 2023. All rights reserved