Long term relationship pays dividends
When two companies work closely together for 20 years, the benefits can be many and subtle in nature, providing complacency isn't allowed a look in. Brookfields Lawyers and Imagetext show how it should be done.
Brookfields Lawyers can directly trace its heritage to 1856, when Frederic Maurice Preston Brookfield from Sheffield first arrived in Auckland and began his law practice. Today Brookfields is a leading law firm that provides legal advice in all principal areas of the law for public, corporate and private clients across New Zealand and beyond.
However, a strong sense of history and tradition has never stopped Brookfields from taking advantage of the latest in technology. Since the early days of business computer systems, Brookfields has been a leader of technology adoption in the legal world. As a result it has a well-deserved reputation as a legal practice that combines the virtues of "old fashioned values", with all the advantages that technology can deliver.
As part of its long-term commitment to maximizing the benefits of technology, Brookfields has enjoyed an ongoing relationship with information technology partner Imagetext since 1995.
The depth of the relationship between the two companies ensures that Brookfields remains at the forefront of technology while enjoying the rewards that come from working with a partner that genuinely understands the business.
Grayson Hagen, Brookfields Information Technology manager, says the long-standing relationship between the two companies delivers obvious benefits.
"Imagetext is easy to deal with and there is no pressure in the relationship; there isn't the continual subtle sales pressure that you can sometimes get with suppliers. Imagetext knows our business inside out and the staff is very customer-focused, so everything runs smoothly for us," says Grayson.
Brookfields has a total of 54 staff including an IT department of two. Almost exclusively Brookfields uses Apple Mac systems on the desktop, with Hewlett Packard servers powering the infrastructure.
Brookfields runs Citrix on the back-end allowing them to push out required Windows applications to end-users, which consist of practice management software, Internet Explorer for users that require access to Landonline for property transactions, ADLS Webforms, and DeskBank banking software.
No Complacency
Grayson says that every three years Brookfields undertakes a major review of its systems to ensure that it is still getting the expected business benefits and that it isn't at risk of falling behind in any way.
"Imagetext works with us to review our systems and as we are regularly approached by other potential suppliers, we know what
"Two years ago we reviewed whether or not we should move to a cloud-based system. Imagetext worked through the options with us and discussed the pros and cons of on-premise versus cloud."
"In terms of the costs savings, while it's little skewed because we moved to a full lease model four years ago, we saved at least $61K a year compared to a full cloud solution. And that's before we factored in the additional costs associated with fiber and bandwidth requirements."
"We continue to keep an eye on cloud options, but we effectively have our own in-house cloud solution that is much more cost-efficient. Plus, given we are a law firm, we are always concerned about where our data sits," says Grayson."
Another benefit of the long-standing relationship with Imagetext is the flexibility of engagement says Grayson.
"As Brookfields primary IT provider, Imagetext provides us with hardware, software, services, and support – both remote and on-site."
"When Brookfields is implementing major changes, Imagetext is heavily involved in helping us with installation and configuration. Then as Brookfields staff become more attuned to the new environment, Imagetext's direct involvement reduces to match our current requirements," says Grayson.
"We have been through various back-end infrastructure environments over the years. Given that we have been partners since 1995, this is probably the fourth or fifth generation of major infrastructure changes that Imagetext has been involved in with us.
"Put simply, Imagetext gets our business and has been a reliable partner for the past 20 years. You really can't ask for more than that from one of your key suppliers," says Grayson.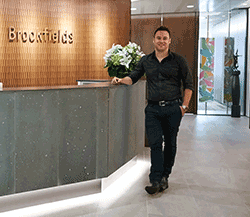 Overview
Brookfields Lawyers combines the best in traditional legal values with the latest in information technology to deliver top-quality advice and service to its clients.
Challenge
How do you successfully combine old-fashioned values with best-in-class technologies without diluting the benefits that each delivers?
Solution
Partner with a specialist technology supplier who is committed to creating a lasting business relationship and genuinely cares about long-term outcomes.
Why Imagetext?
Imagetext has been a leading supplier of Apple and Windows systems for 30 years. It is one of very few New Zealand technology suppliers with equal expertise in both Apple and Windows systems, and an extensive track record of successfully integrating them
© Copyright 2022. All rights reserved